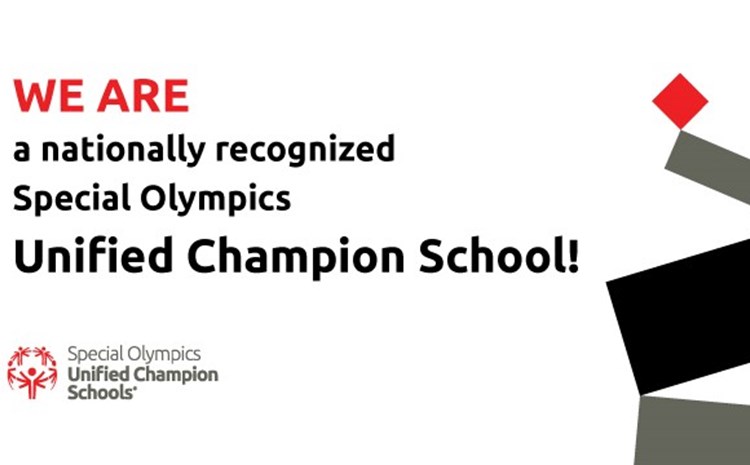 Woodbury Elementary Celebrates Recognition as Unified Champion School
Woodbury Elementary School has earned the recognition as a Unified Champion School by the Special Olympics of Southern California for its unified physical education program that brings general education and special education students together for physical education activities. Woodbury held a special assembly yesterday to celebrate the distinction as the district's first elementary unified champion school that is focused on promoting social inclusion by bringing together students with and without intellectual disabilities through sports and other activities.
Woodbury has spearheaded a variety of unified initiatives this year, supported by teachers and staff thanks to the leadership of Adapted Physical Education Teacher Brittany Schmitt. Some of these initiatives include:
Disability Awareness Day in September which included learning about walking in someone else's shoes and signing a pledge to be kind.
Young Athletes which unifies general education and special education P.E. every Thursday.
Unified 100 Mile Club to promote running and Developmental Play Centers
Hero Helpers where students volunteer during lunch to help students with special needs in their classrooms.
"We are proud of Woodbury Elementary School for taking the initiative to promote friendships among students of all ability levels and to create a caring and respectful school climate," said Board of Education President Walter Muneton. "The unified programs at Woodbury will foster important leadership skills in our students."

The assembly was attended by the Assistant Superintendent of Elementary Education Lisa Swartz, Assistant Superintendent of Special Education and Student Services Valerie Shedd and Special Education Director Erin Lara. Students ended the assembly with a fun Freeze Dance that got everyone moving.
The core components of a Unified Champion School include Special Olympics Young Athletes, Inclusive Youth Leadership and Whole School Engagement and Woodbury students are definitely engaged. Students are looking forward to a Unified Olympics Day in the spring.