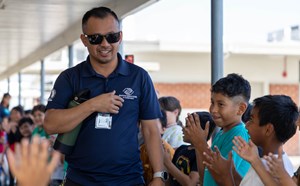 We send Mr. Thiet off with a very fond farewell! Students and staff did a clap-off and were able to share words of appreciation and gratitude for his 15 years of service as our Boys and Girls Club Supervisor. He truly went above and beyond to support…
Principal's Message
Dear Woodbury Families,
I am eagerly looking forward to the 2023-2024 school year! We will continue our work as an MTSS School Site this school year as we address the following areas:
GGUSD Strategic Plan Goal 1: Academic Skills
Our SBAC scores show continued growth for our students in both the areas of ELA and Math! Every cohort that tested with us over the last two years showed improvement in both of these areas. Students who scored proficient in math jumped by 15%. Supports in place are definitely effective!
Our teachers enter year three for use of the FastBridge Program. FastBridge allows us to screen our students in the area of reading, delve into deeper diagnostic assessments for certain students and then offer small group intervention during the school day. It is exciting how our teachers are leveraging this tool to meet the needs of all of our students. 
GGUSD Strategic Plan Goal 2: Personal Skills
Woodbury will continue the work as a Positive Behavior Interventions and Supports (PBIS) School. Students are explicitly taught how to behave around Tiger PRIDE (Positivity, Respect, Integrity, Dedication, Excellence) across all areas of school. If students are showing Tiger PRIDE, they will earn Tiger PRIDE Tickets. These tickets can be used for purchases at the Tiger PRIDE Store and will also be entered into our monthly raffle. We also honor students at the end of each month in a school-wide assembly. In addition, we have a new position- IBI Site Support. This person will be assisting with student behavior across campus both inside and outside the classroom.
Social Emotional Learning (SEL)
To help address our students' Social Emotional Learning, we will continue in year three of the ASPIRE Program. This key support will ensure that we have either a Social Worker or Mental Health Specialist on campus at all times. They will be intervening as needed during the school day, offering individual and group counseling, and be teaching our students SEL strategies through the Second Step SEL Curriculum. We are looking forward to the grand opening of our Wellness Room this school year- a safe place for students to participate in counseling, process feelings, and overcome anxiety.
To support all of these areas and also of note for this school year are:
Expansion of the after school program Boys and Girls Club. We hope to be able to accommodate all students whose parents want them to participate instead of having to carry a Wait List. Boys and Girls Club remains a wonderful, cost-free program for our students.

Focusing on School Safety. Keeping our students physically safe is of the utmost importance. We will participate in the district initiative to ensure we are keeping our campus and students as safe as possible.

Unified Champion Program. We were the first elementary school in Garden Grove Unified School District to earn the title as a Unified Champion School. As such, we seek to ensure that all students are socially included through physical activity including Hero Helpers, Young Athletes, Olympics Day, Disability Awareness Day and Student Council. We are proud of our inclusive environment!
Please know that I have an open door policy and always encourage parents to reach out at any time with questions, comments or concerns. It is only in working in unison between home and school that we can help our students reach their full potential.
Sincerely,
Chris Francis
Principal
Our School
Greetings students and families!
Welcome to Woodbury Elementary School where our hardworking teachers and staff go above and beyond to provide an exceptional education to our 400 students.  We are committed to equipping all students with the academic and personal skills for lifelong success.  Our students experience a high level of academic rigor and continue to excel in the classroom.
Our after school programs help extend the learning beyond the school day.
The College and Career Mentoring Program pairs sixth grade students with a college mentor who serves as a positive role model, helps students with their school work, and teaches them about the path to college and career success.
Our Boys & Girls Club is up and running for all second through sixth grade students. Students receive homework help and participate in fun academic, artistic, and athletic activities.
The Intervention Program provides tutoring support for students who need that extra assistance in a specific subject. Teachers assist students by reviewing class concepts, exercises and homework. 
Woodbury's Computer Program teaches scholars important 21st century technology skills. Students become respectful digitally literate citizens as they explore the internet and are taught to use it for educational purposes.
Our Math Programs teach and review math concepts and lessons with students as a means to prepare them for standardized testing as well as upper grade math. Students explore the theory and reasoning behind math problems, applying them to real world scenarios.
The 100-Mile Club creates the personal goal for students of running up to 100 miles by the end of the year. From this program, comes our family fun-run event, known as "The Color Run!"  
Our Art Program brings out students' artistic talents and allows them an opportunity to learn real-world skills from professional artists.  
Wednesdays are College and Career Awareness days. Students learn important college readiness skill and begin exploring their college and career interests and goals.
Woodbury staff and teachers regularly recognize and celebrate the accomplishments of our students with monthly awards for character, scholarly habits, and attendance.  Parents also receive awards for high levels of parent engagement. 
We're grateful for our parent volunteers who do so much to enhance the school experience, including fundraising campaigns to support a variety of educational assemblies, our after-school robotics program, and annual family events that promote a healthy school community. 
 We are looking forward to another great school year at Woodbury thanks to our amazing students, staff and parents!