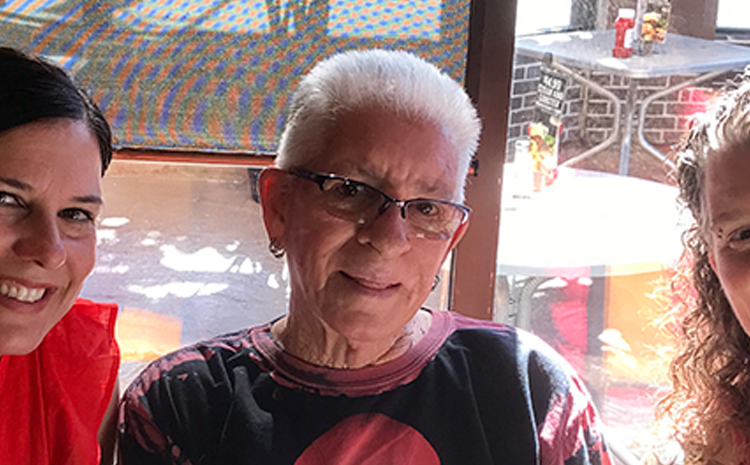 In Loving Memory - Karen Joan Spurlock
Friday, September 9, 2022
It is with a heavy heart that we announce the passing of Karen Spurlock.  She passed away on June 6, 2022.  She will always be remembered and will live in our hearts forever!
Thank you, Karen Spurlock. From Woodbury Elementary 
In the past few years, we at Woodbury have defined what we would like Woodbury to exemplify… positivity, respect, integrity, dedication, and excellence, creating a Woodbury Tiger P.R.I.D.E. culture. We now realize that these core values were already present at Woodbury for decades, embodied in one person, Karen Spurlock. Thank you Karen for modeling these fundamental principles every single day. Thank you Karen for your selfless dedication, always doing what was best for the children, your kind words, and showing us the true meaning of the word excellence.   
Karen's incredible lifelong work at Woodbury, spanning over an impressive 45 years and 10 principals began as a volunteer. From her daughter, April:  "Mom started volunteering at Woodbury in 1973 when I was in kindergarten."  She remembers sometimes bringing Amber and Jim, just a baby at the time, with her. April also recalls her mom being "very active in the PTA for years and [winning] many awards.  [Forty plus] years later, and [her 3 children] all still remember the fun [they] had at the PTA fundraising carnivals she organized." In addition, Karen's dedication to her children and the community continued by giving additional time to a program called Volunteers At Home where parents who were not able to volunteer in the classroom, could still contribute by doing projects at home to help their student's teacher.  She would gather supplies and send them home with the student with instructions, and the parents would send back the completed work with their child.  Thank you, Karen. 
Luckily, Woodbury continued to benefit from Karen's generosity, kindness, and love.  From her daughter April:  "After her own kids were all gone from Woodbury, mom continued to volunteer until someone suggested she get on the payroll, so she did!" Woodbury was very fortunate  to continue to have Karen officially become part of the Woodbury family.  She began as a noontime supervisor and also worked the crosswalk, which is a school duty that requires, let's just say, a special kind of mental readiness, BUT Karen insisted upon doing it! Thank you, Karen! Her role at Woodbury went beyond her job description. Her accomplishments and contributions to Woodbury are endless, but there is one that left a lasting impression on hundreds of children over the years.  
Karen's  position called for her to supervise students while they played the usual handball, foursquare, tetherball games, but she came up with a better way for kids to spend their lunch recess, giving them an opportunity to participate in something different. She revamped their lunch recess playtime period resulting in kids, who are now grown adults, still talking about it to this day. 
Karen founded Woodbury's long running ORGANIZED NOONTIME SPORTS.  From her daughter, April: "Mom credits [principal] Fran Murphy for saying YES when mom asked if she could arrange some organized sports for the kids during lunch."  Students signed up for teams during the different seasons and participated in organized games of flag football, soccer, and softball games (even tea chers joined the teams & played with the kids in these sports during their lunch breaks).  Karen created teams and these teams would play against each other & compete in the final Championship playoff games.  Students would be constantly checking the score/gameboard  to see who was playing who next!  As her daughter April recalls, "In the 35-40 years since that time, mom has engaged thousands of kids in sports activities, teaching sportsmanship, team play and cooperation, the importance of physical activity and exercise, sharing, patience, friendship, and all the good things kids learn from playing sports together."  
On her own account, Karen bought ribbons for winning teams and presented winners at assemblies on her own time. We watched each time, as students beamed when they heard their names being called out and proudly accepted their sportsmanship ribbons handed by Ms. Karen.   Karen's daughter, April, says "We can't guess how many ribbons she awarded over the years, but we know they were treasured by many generations of Woodbury students. Mom lives in the neighborhood, and every year at Halloween while she hands out treats, adults come by with their kids (and sometimes grandkids) who all know mom from Woodbury and the ones who played sports still brag about their ribbons!" She adds that "Kids who may not have had an opportunity to play organized sports outside of school got a chance to be on a team at Woodbury because of our mom!" Thank you, Karen.
 Karen instilled in children the importance of HEALTHY COMPETITION, TEAMWORK, and their overall PHYSICAL & MENTAL WELL BEING!  She genuinely cared for our Woodbury Tigers, and they knew it. They felt it.  
Other ways Karen went above & beyond:
She helped with Upper Grade Field Day by creating Bingo games, outside under the trees, keeping students busy and having fun between sporting events & came on her own time.

She helped with the 6th grade vs Staff end of the year softball game by organizing the 6th graders, being the umpire of the game, and keeping score. We as the staff wanted to win of course, but Karen always encouraged and coached our 6th graders.

 

She often surprised so many of us with something special in our mailboxes: Dodger items for Steph, Angel items for Leticia & Jenn T., raffle prize toys and other items for various teachers for their classrooms, gifted tons of baby books for Magda's first baby, asked about our families, etc! 
She ALWAYS dressed up for School Spirit Days with the most hilarious and creative COSTUMES, HATS, SOCKS, ETC..ETC!!!
Thank you, Karen.
Karen retired from Woodbury about 2 years ago. Her absence at Woodbury has definitely been noticeable, and we miss her dearly. She has made a lasting impact on all of us, especially the students.  Her love for the kids showed, and the kids loved her too. You could see it every time you looked out in the field, kids huddled around her, giving her high fives, stopping her in the hallway to ask about the next game, or giving her a simple smile, a good morning greeting, or a warm hug from the younger ones. As her daughter, April, says "Everyone knows how much time and energy mom put into everything, and she dedicated a great portion of it to the students of Woodbury. Mom loved working with the kids. She's simply the best. ❤"
Karen's legacy at Woodbury has certainly left a lasting mark. She has touched so many generations with her dedication, kindness, and unconditional love.  Woodbury was blessed to have Karen for so many years. She will always be part of the Woodbury Family. 
From the bottom of our hearts, thank you Karen. 
We love you.