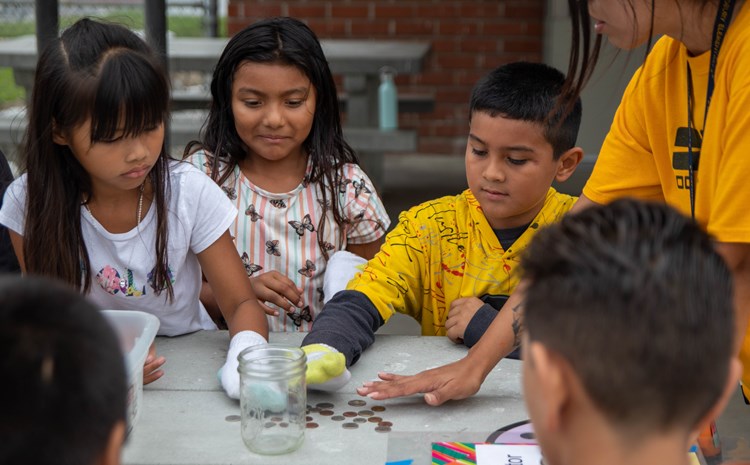 Disability Awareness Day
Wednesday, October 12, 2022
Last week our Adaptive PE Teacher, Brittany Schmitt, facilitated a "Disability Awareness Day". It encouraged students to walk in somebody else's shoes and see how it might feel to have a disability. An overarching message of inclusion and kindness to all was a foundation to the day. Students participated in eight different station activities with classmates that gave them experience being blind, handicap, or unable to communicate. We will continue activities like this throughout the school year as we work toward becoming the first elementary Special Olympics Unified Champion School in GGUSD. Please ask your child about the event!
La semana pasada, nuestra maestra de Educación Física Adaptada, Brittany Schmitt, facilitó un "Día de Concientización sobre la Discapacidad". Animó a los estudiantes a ponerse en los zapatos de otra persona y ver cómo se sentiría tener una discapacidad. Un mensaje general de inclusión y amabilidad para todos fue la base del día. Los estudiantes participaron en ocho actividades de estaciones diferentes con compañeros de clase que les dieron la experiencia de ser ciegos, discapacitados o incapaces de comunicarse. Continuaremos con actividades como esta a lo largo del año escolar mientras trabajamos para convertirnos en la  Escuela Primaria Campeona Unificada de Olimpiadas Especiales en GGUSD. Pregúntele a su hijo sobre el evento!
Tuần trước cô giáo viên thể dục thích ứng, Brittany Schmitt, đã có tổ chức "Ngày Vinh Danh Dành Cho Người Khuyết Tật". Điều này khuyến khích các em học sinh nhìn thấy và hiểu được cảm giác của người bị khuyết tật. Đây là một thông điệp bao quát nói về cách hòa nhập và có lòng tốt đối với tất cả mọi người là nền tảng cần có. Học sinh đã tham gia vào tám hoạt động tại mỗi địa điểm khác nhau với các bạn cùng lớp để trải nghiệm chẳng hạn như bị mù, khuyết tật hoặc không có khả năng giao tiếp. Chúng tôi sẽ tiếp tục các hoạt động như vậy trong suốt năm học và nỗ lực hướng tới mục tiêu để đạt được giải vô địch Thế Vận Hội Khuyết Tật cấp Tiểu Học đầu tiên ở GGUSD. Quý vị hãy hỏi các em về sự kiện này nhé!